Death Valley 2021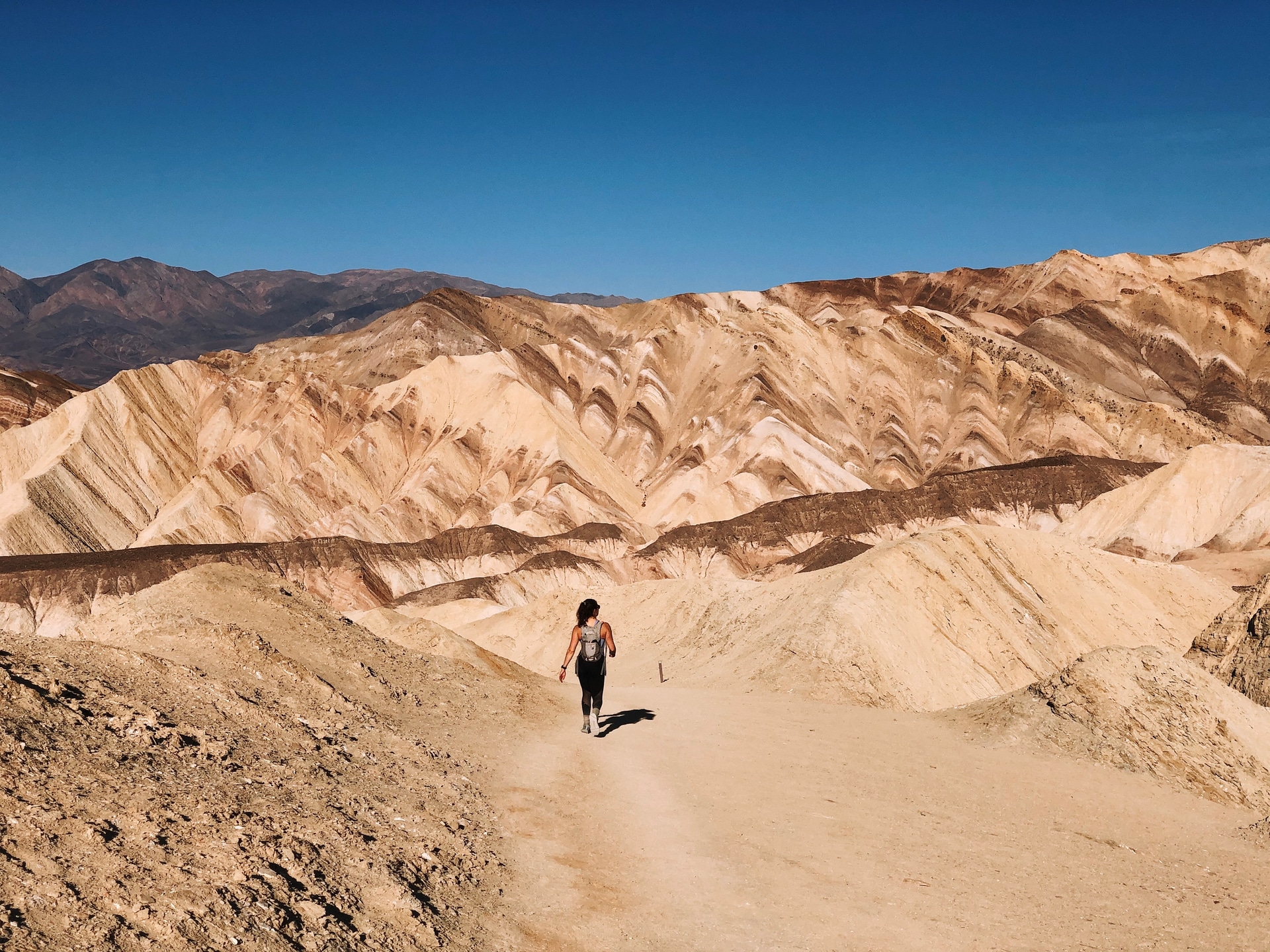 Naomi and I visited Death Valley in February. I'm convinced this is one of the best times to experience the park. I had an absolute blast doing it. In fact, I'd consider Death Valley in February one of the best national park experiences I've had.
You're going to do a lot of driving so if you haven't read it yet, Born a Crime by Trevor Noah (the audiobook) is an excellent companion 👌
---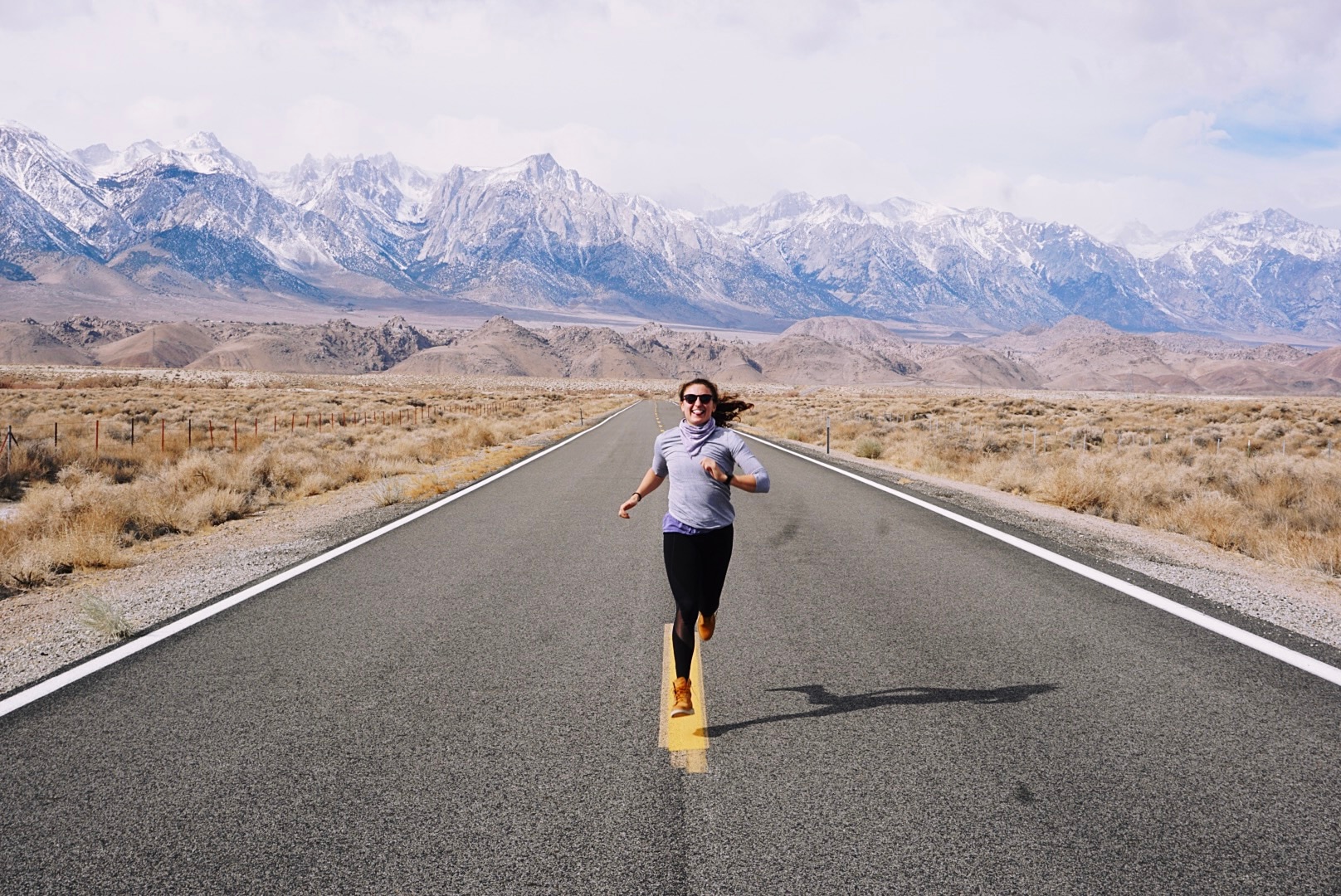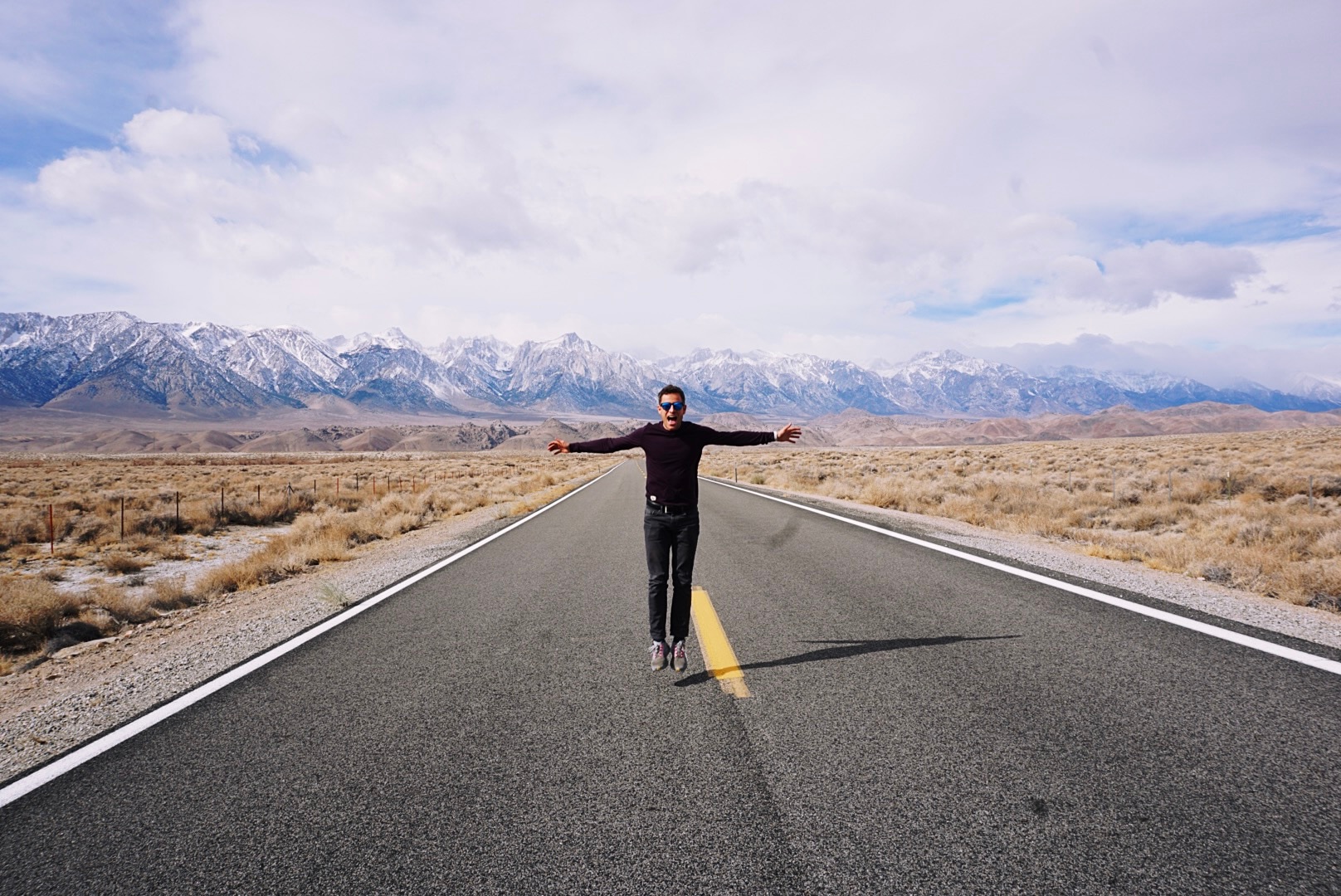 The drive out to Death Valley is just surreal.
There are a lot of fun canyons to explore. We hit up Mosaic Canyon and Desolation Canyon. They're nice, but the real fun is in the side-quests. Scramble off the main path, climb up to the ridge to see the valley below, take the detours.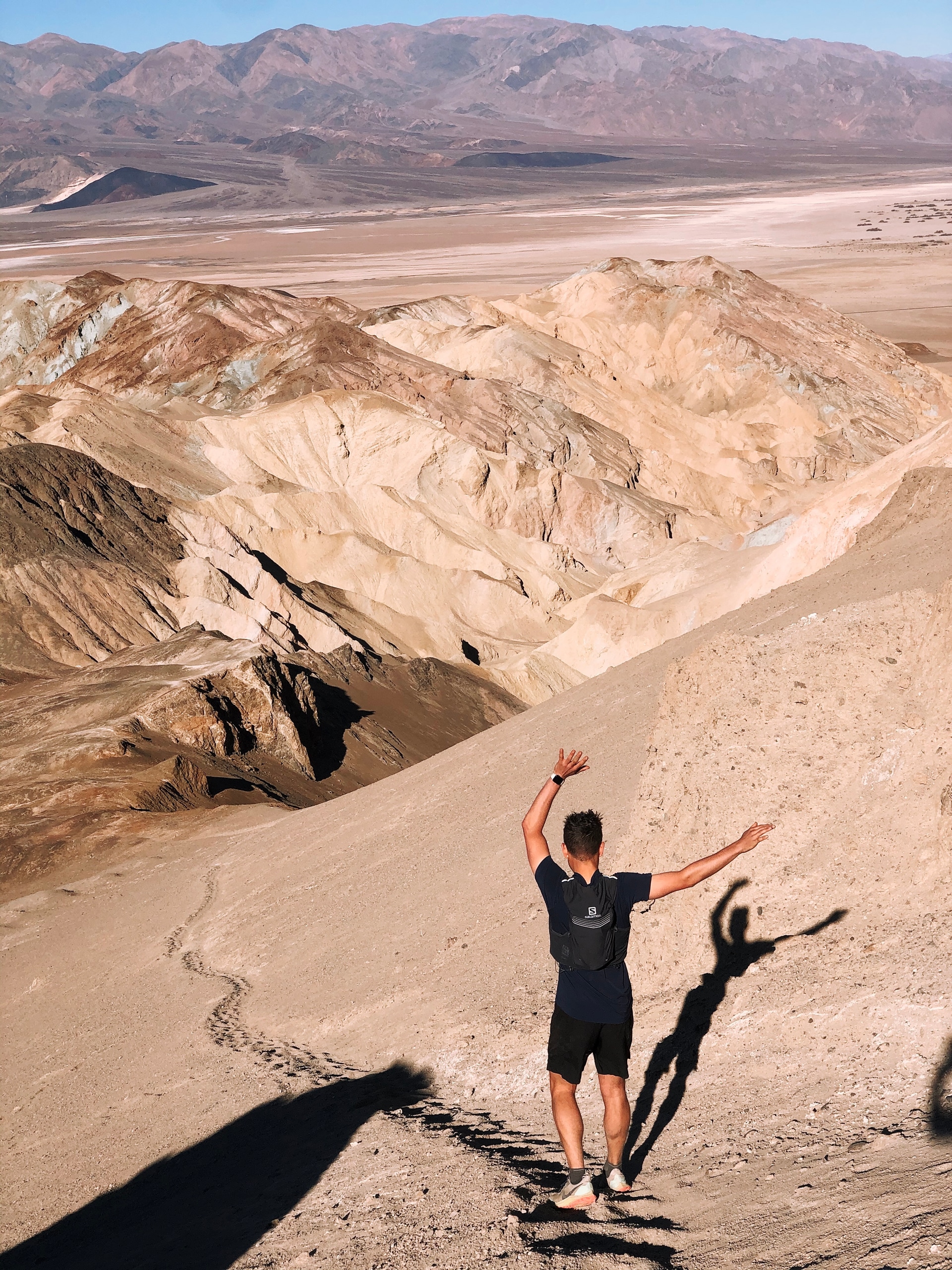 Desolation Canyon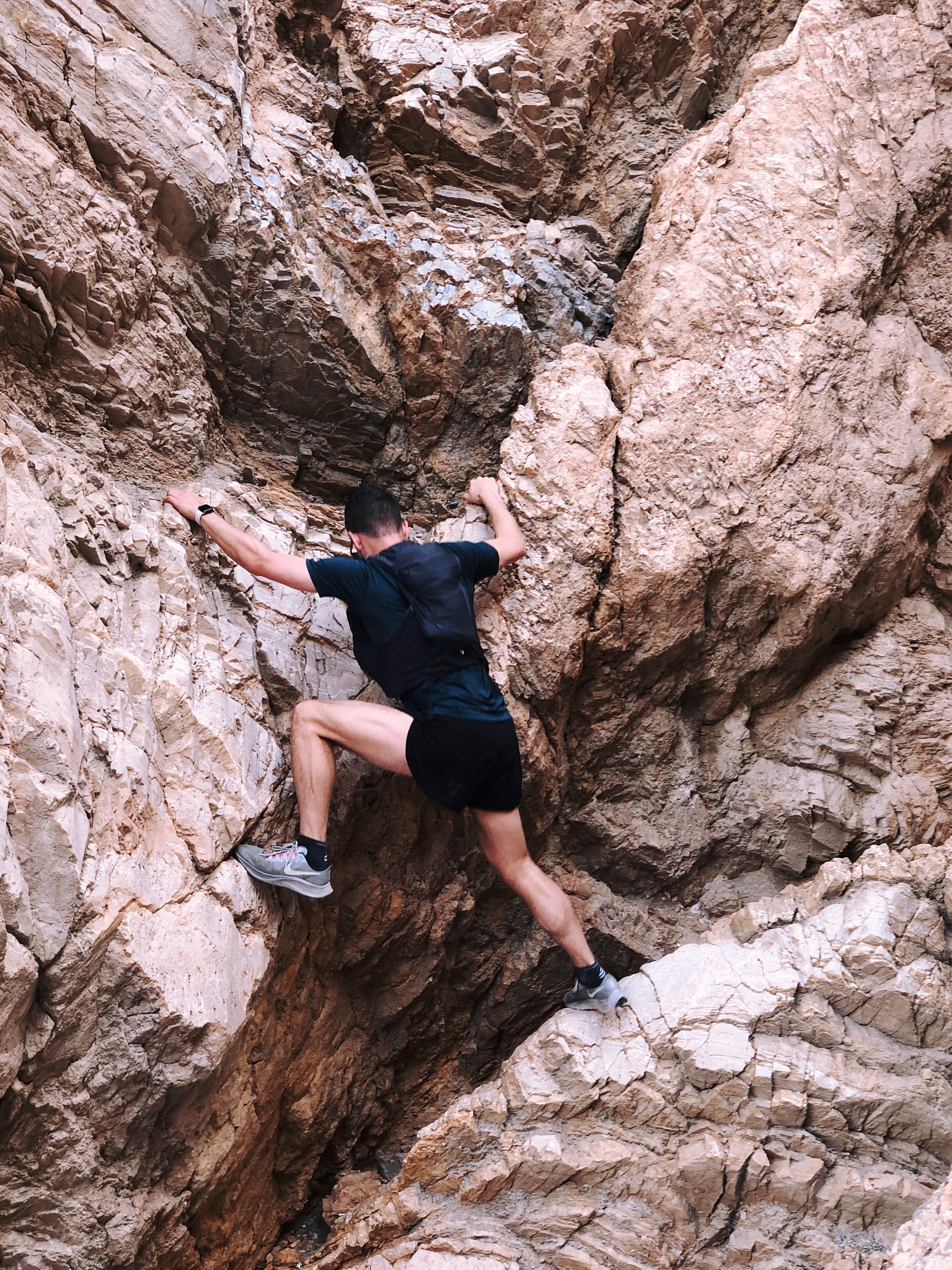 Mosaic Canyon side quests.
We had a blast climbing up and down Mesquite Sand dunes (which are quite accessible), but I think you can do even better. The Eureka Dunes are harder to access, but they're the biggest in the US! In either place, run down a hill full-tilt; the sound of your footsteps will carry for miles and it's trippy and makes you feel like a child again.
Mesquite Sand dunes... what a playground!
We visited Zabriskie point at sunrise which was worth it. As the sun rises, it throws itself on the rocks and paints them gold. But instead of watching from the lookout point, head to the right and follow the ridge toward the Red Cathedral. (Strava)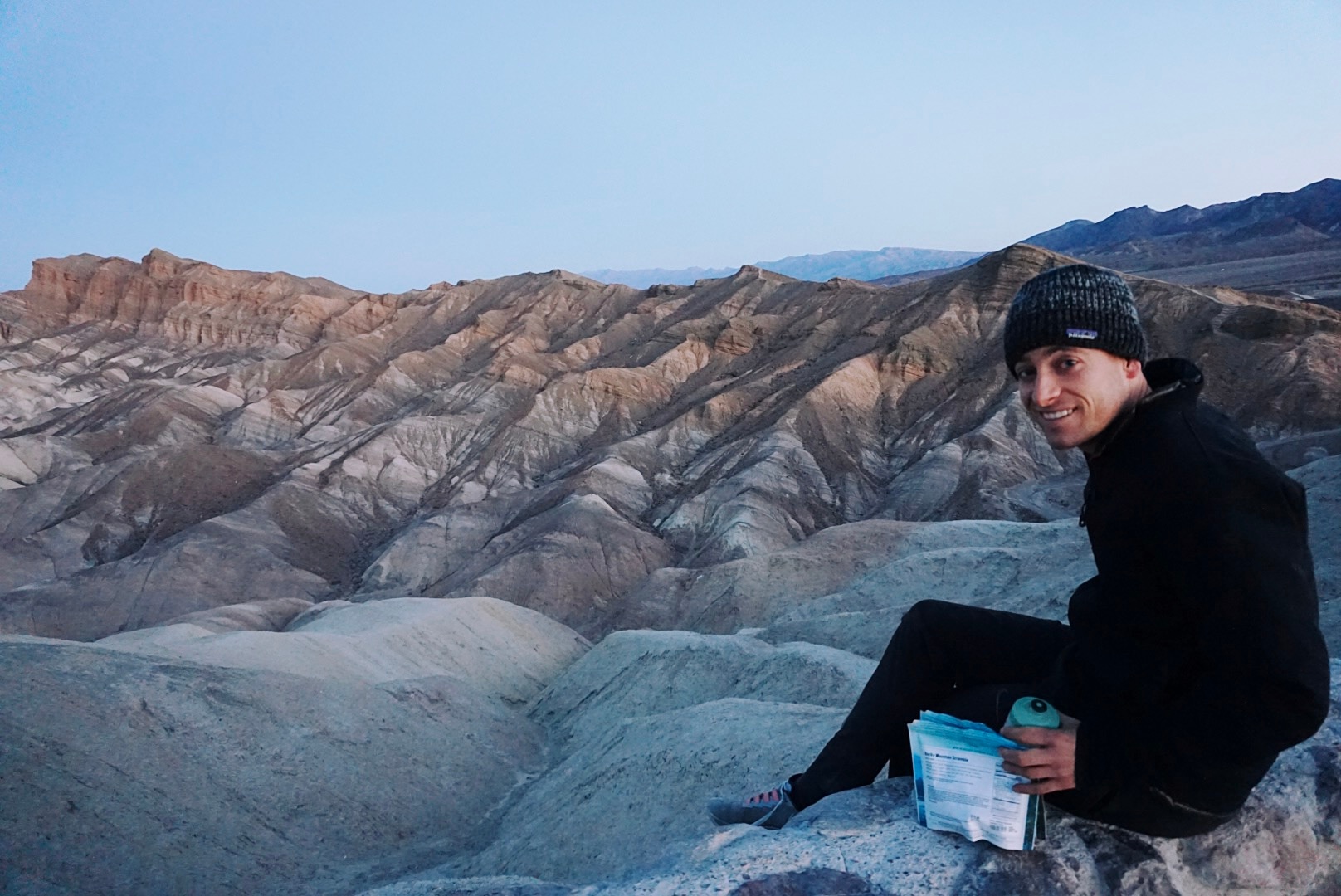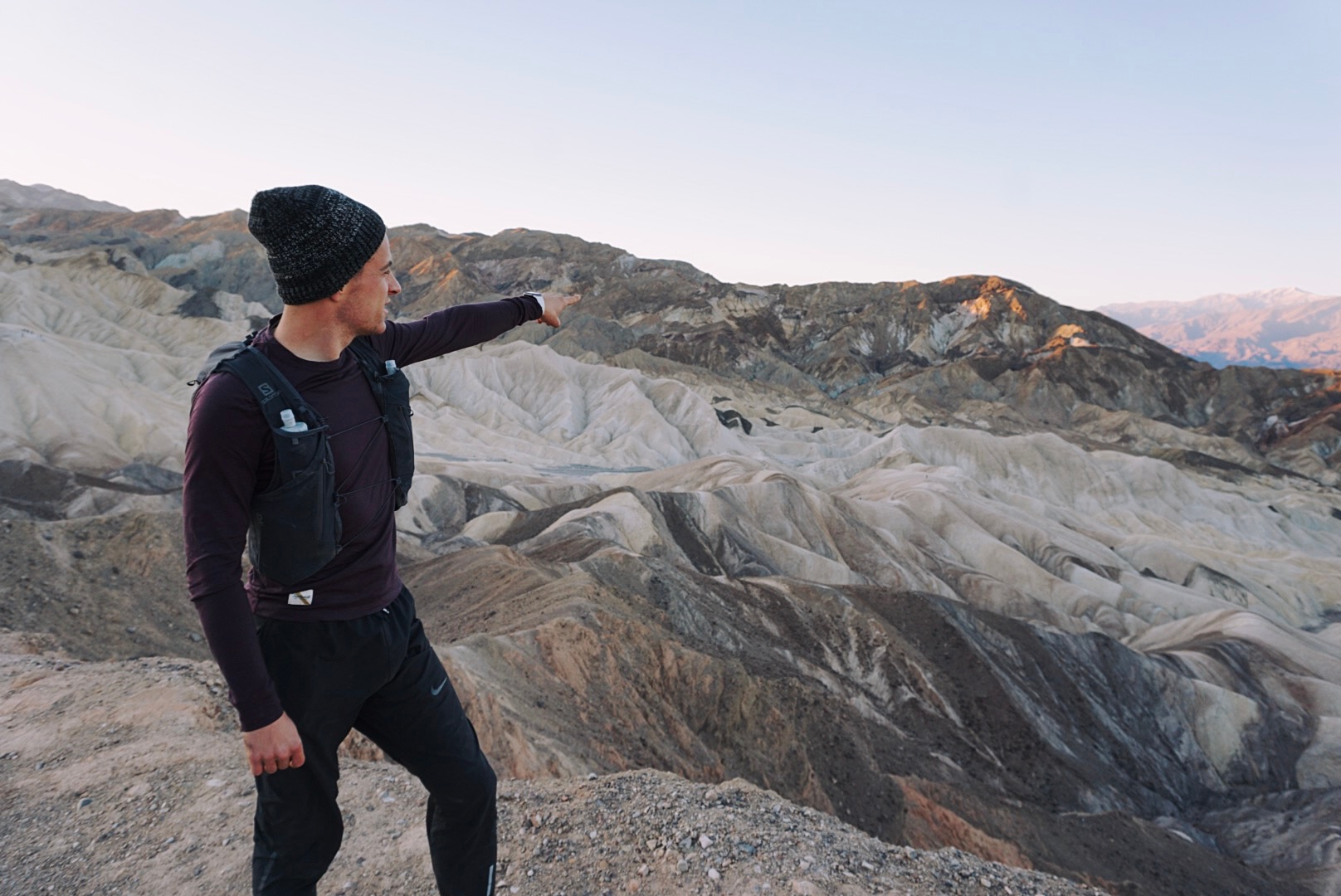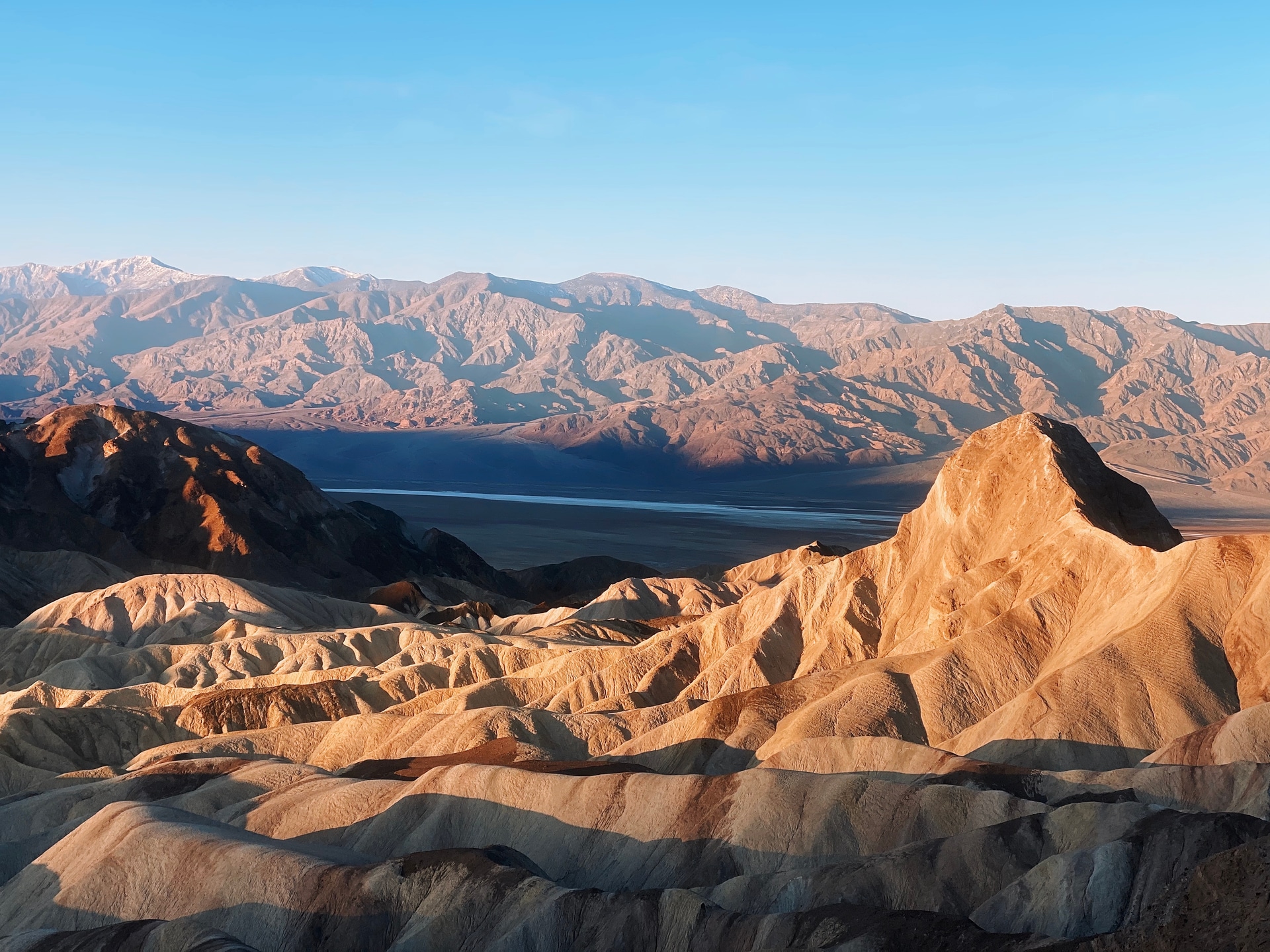 Zabriskie Point at sunrise.
Bring firewood, but make sure it's actually dry... how we acquired wet firewood in a desert is still a mystery to me. If you need to locate some in Death Valley, "The Ranch at Death Valley" has some for sale at a premium. Anyway, veggie foil packets are delicious. BUT! Did you know you can bake a giant cookie in a foil packet? You can. I learned.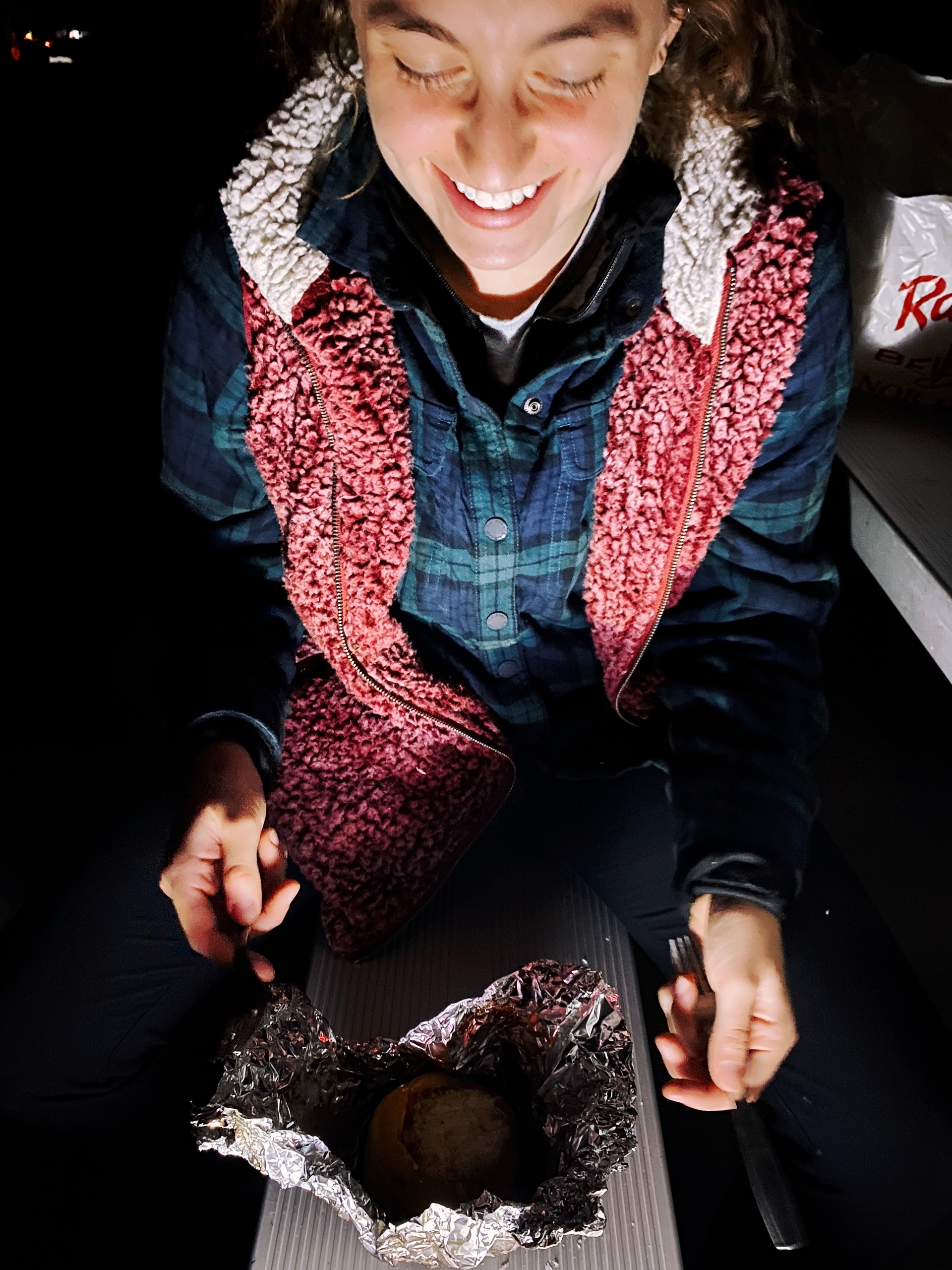 Badwater Basin is surreal. Hike out a half mile or so to see the less disturbed parts.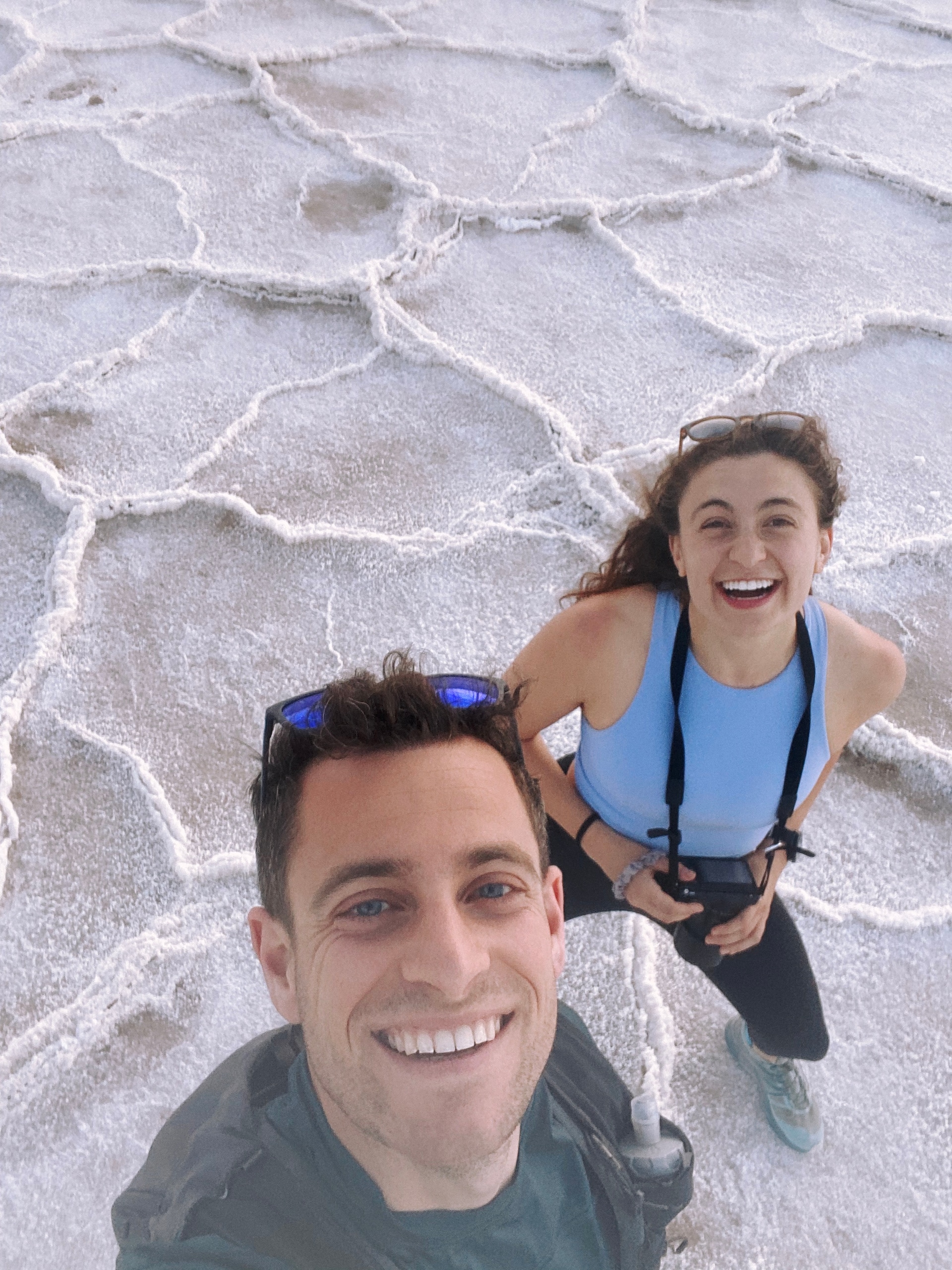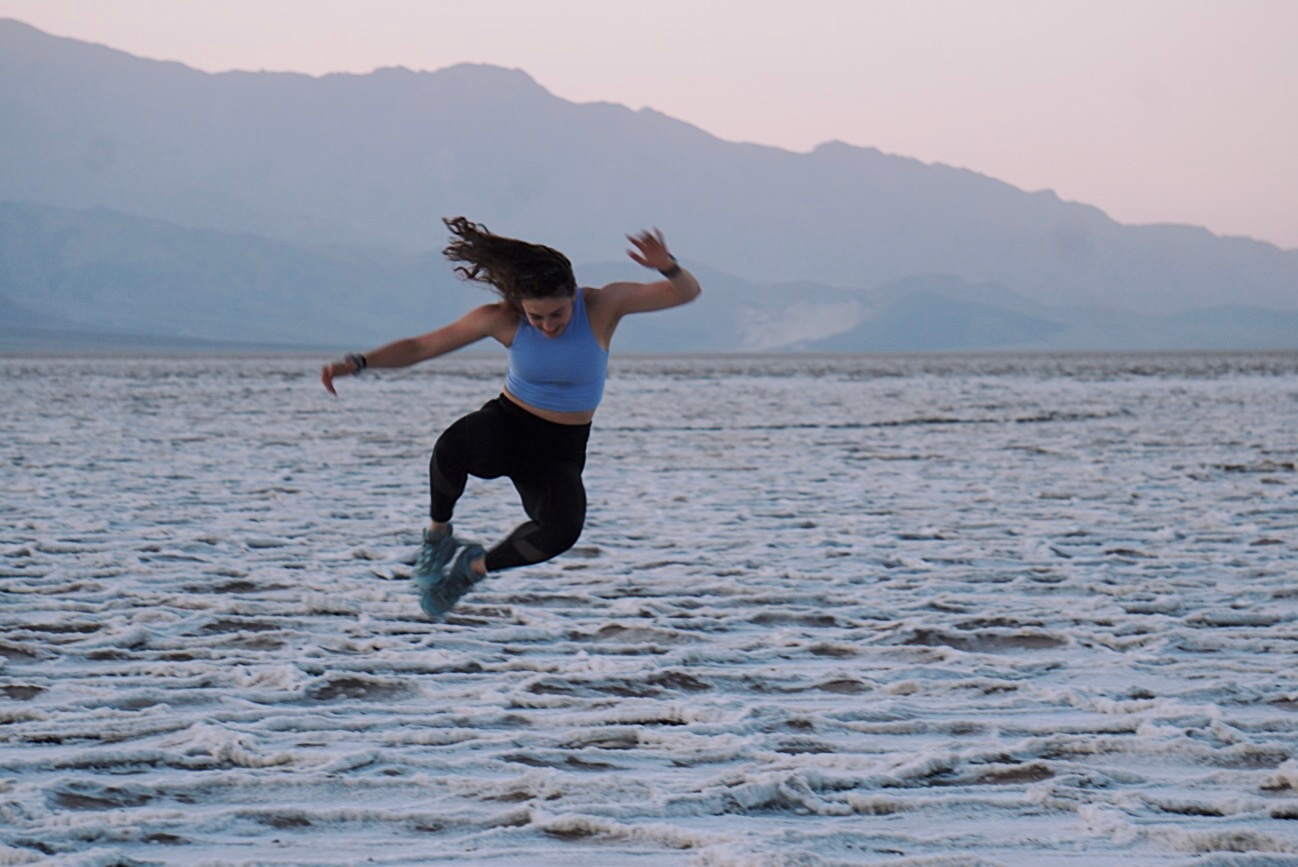 Badwater Basin salt flats at sunset.
If you want some type II fun, climb Telescope Peak. You can see it from the valley: it's the tallest thing with the most snow. To get there, take Wildrose Canyon Road. It's closed for the last mile and a half, but you can hike that bit (Strava). Bring microspikes if you have them. When we summited, it was 75F in the valley but 32F at the trailhead and didn't get any warmer the entire day. It was so cold on the windward side of the mountain ridge all we could think about was that we'd never be warm again. From the top, you can see Badwater Basin (the lowest point in continental US) and Mount Whitney (the highest) with just a twist of your head.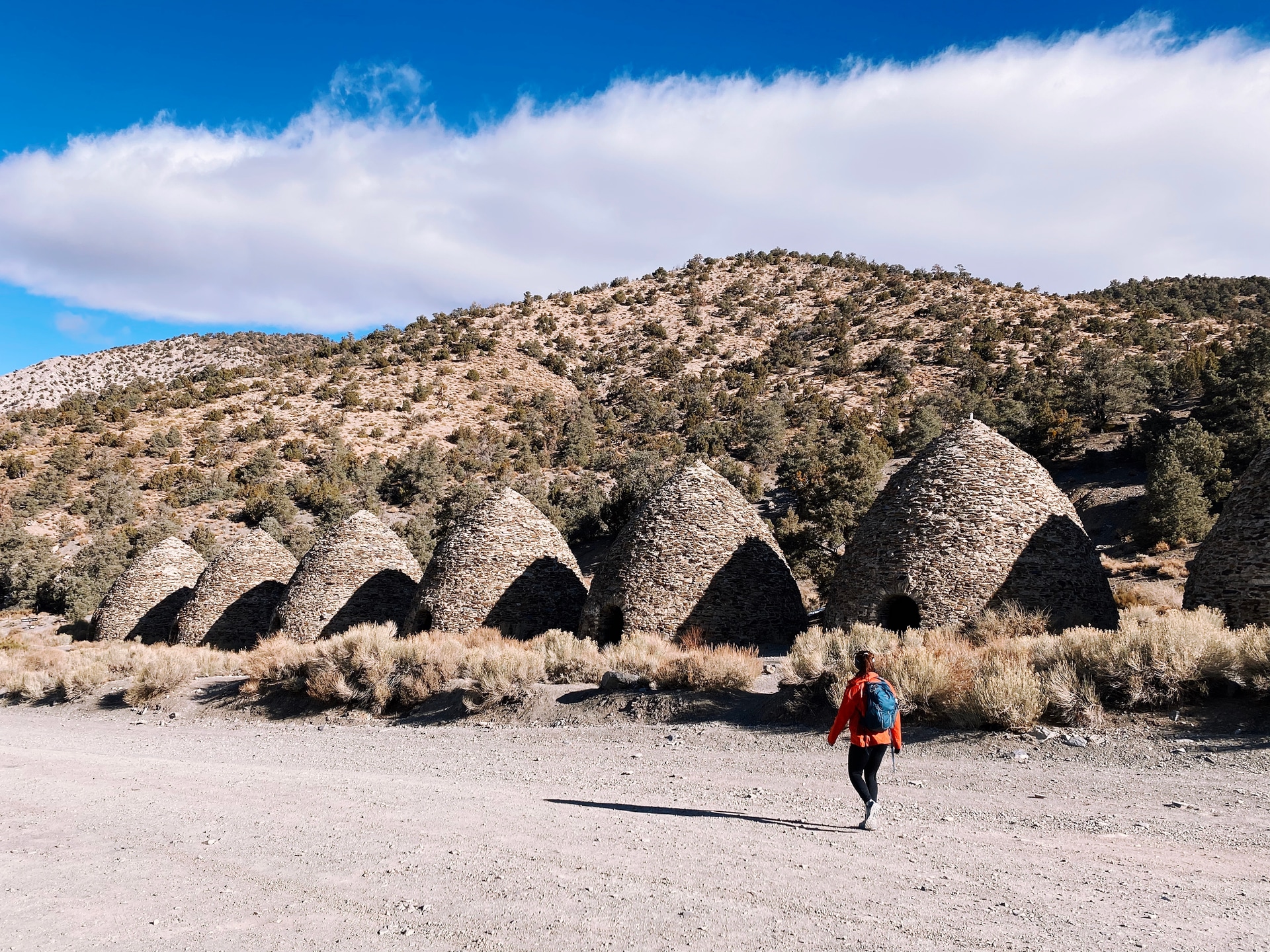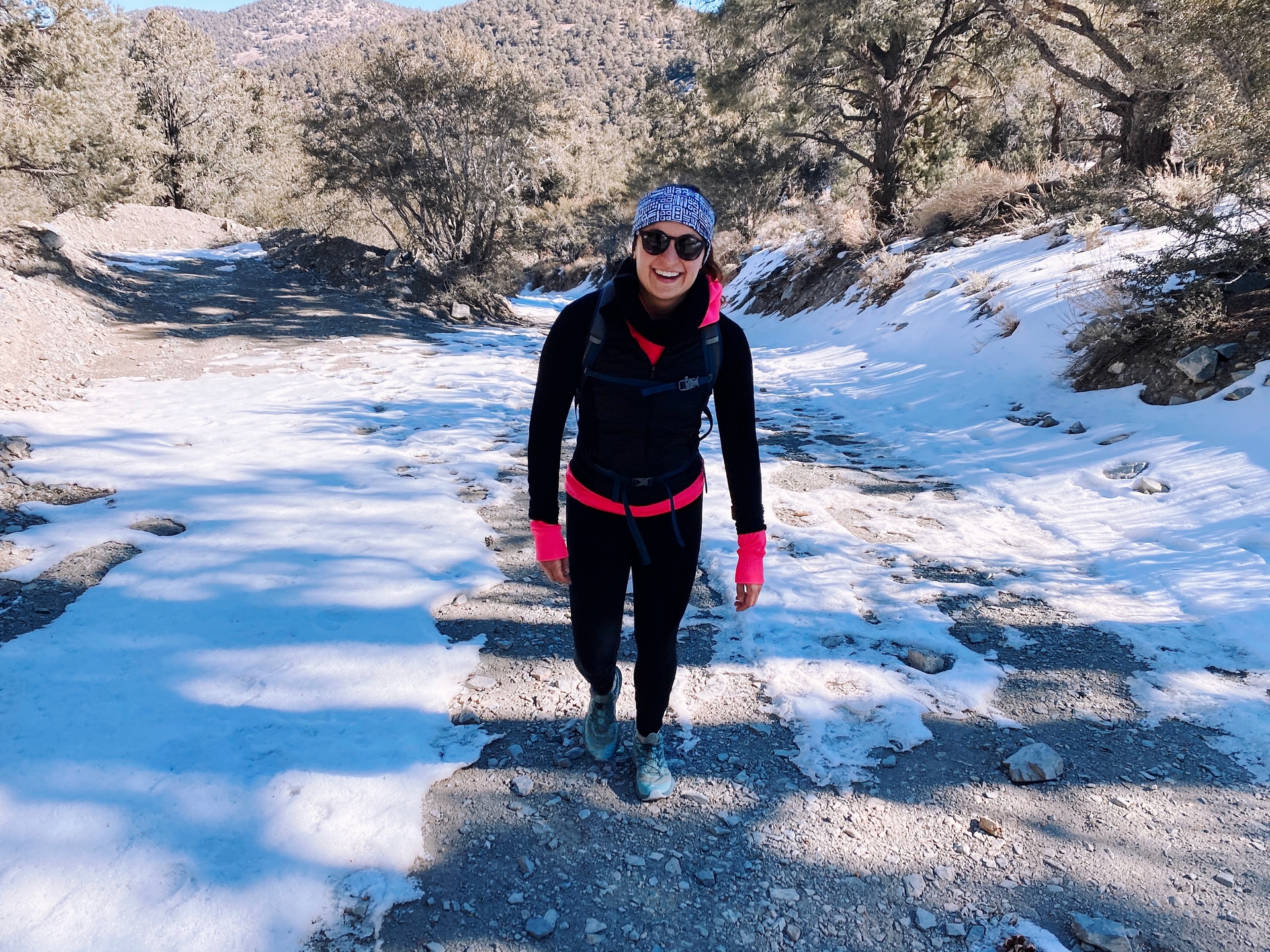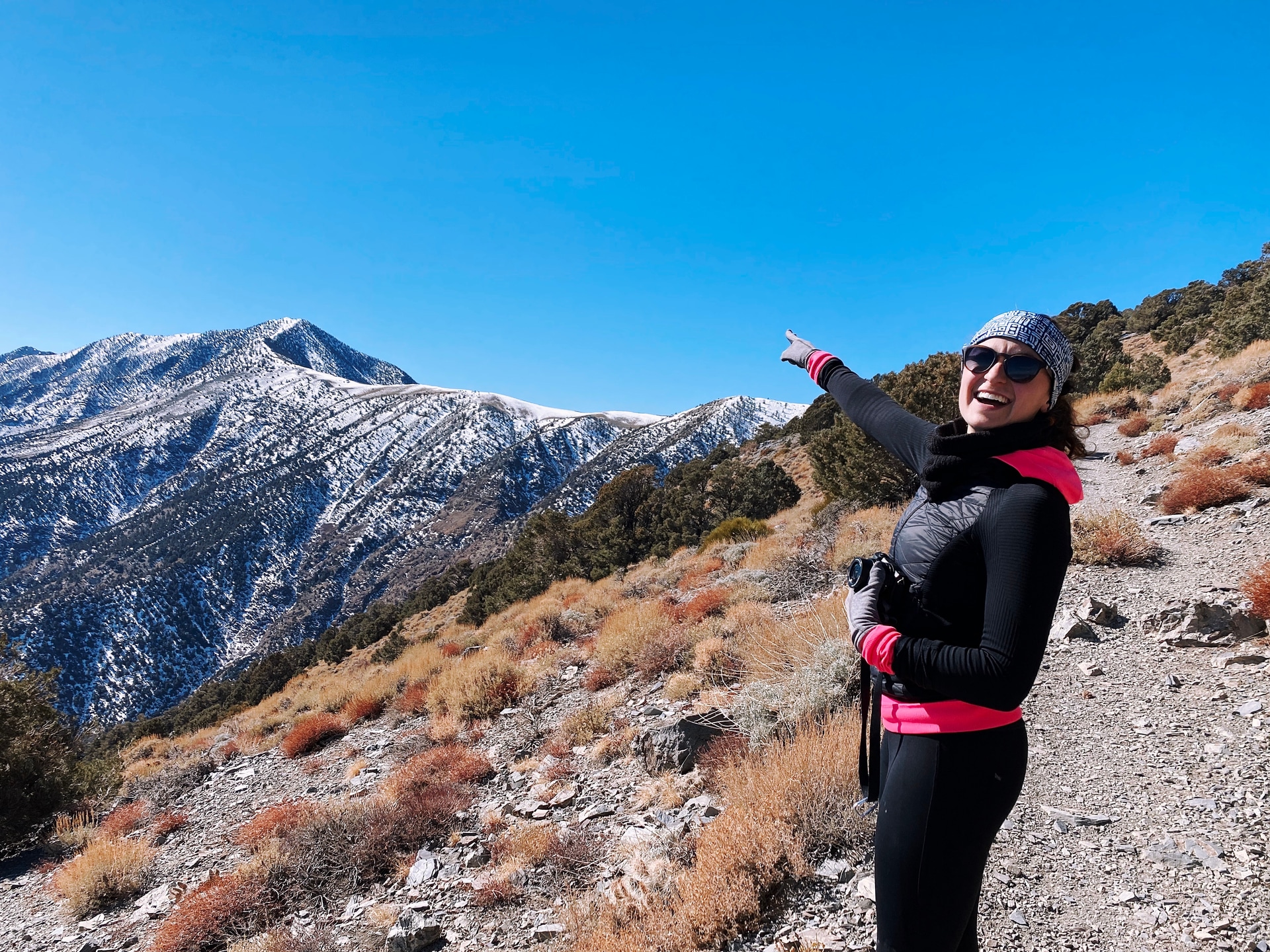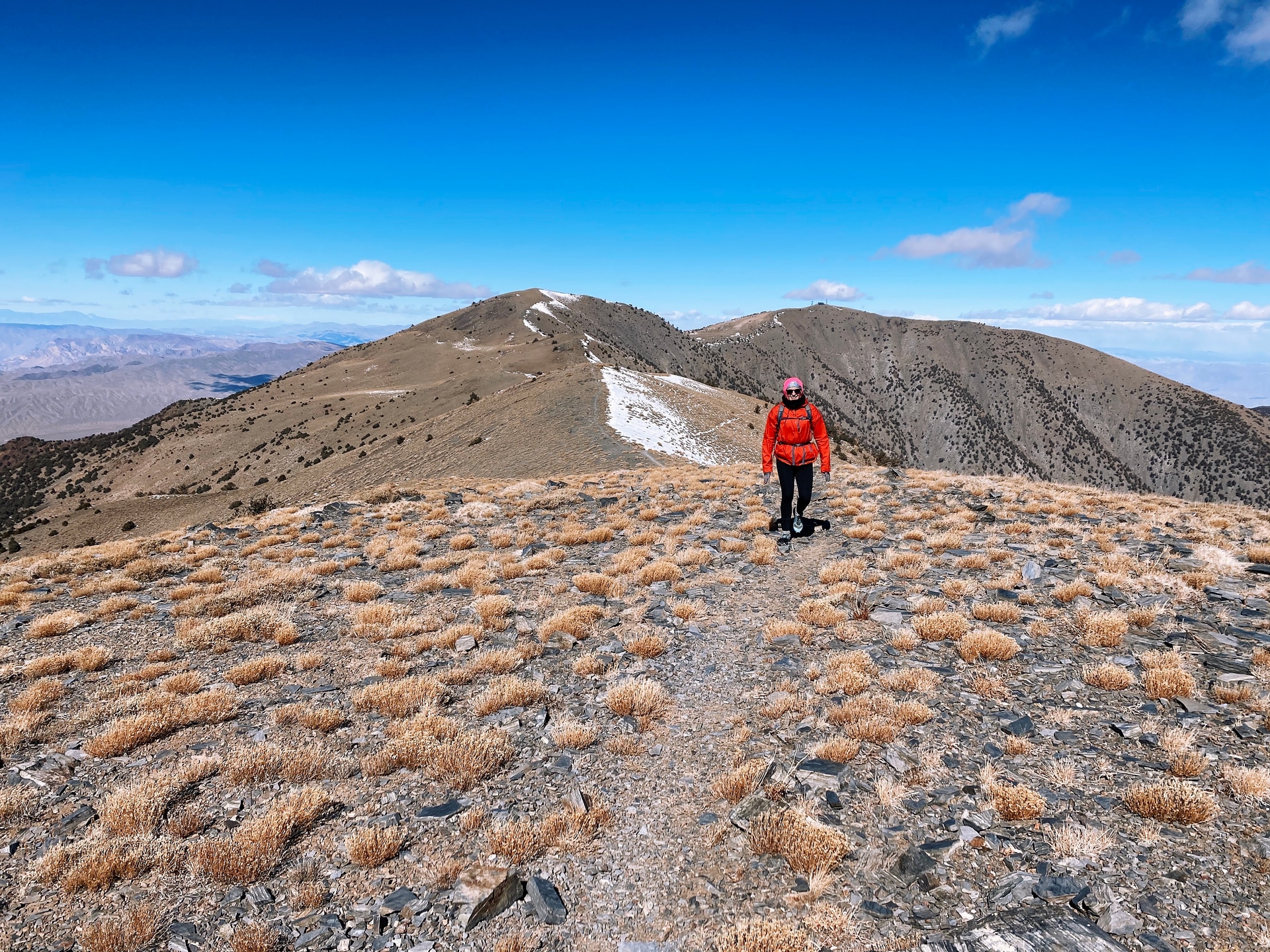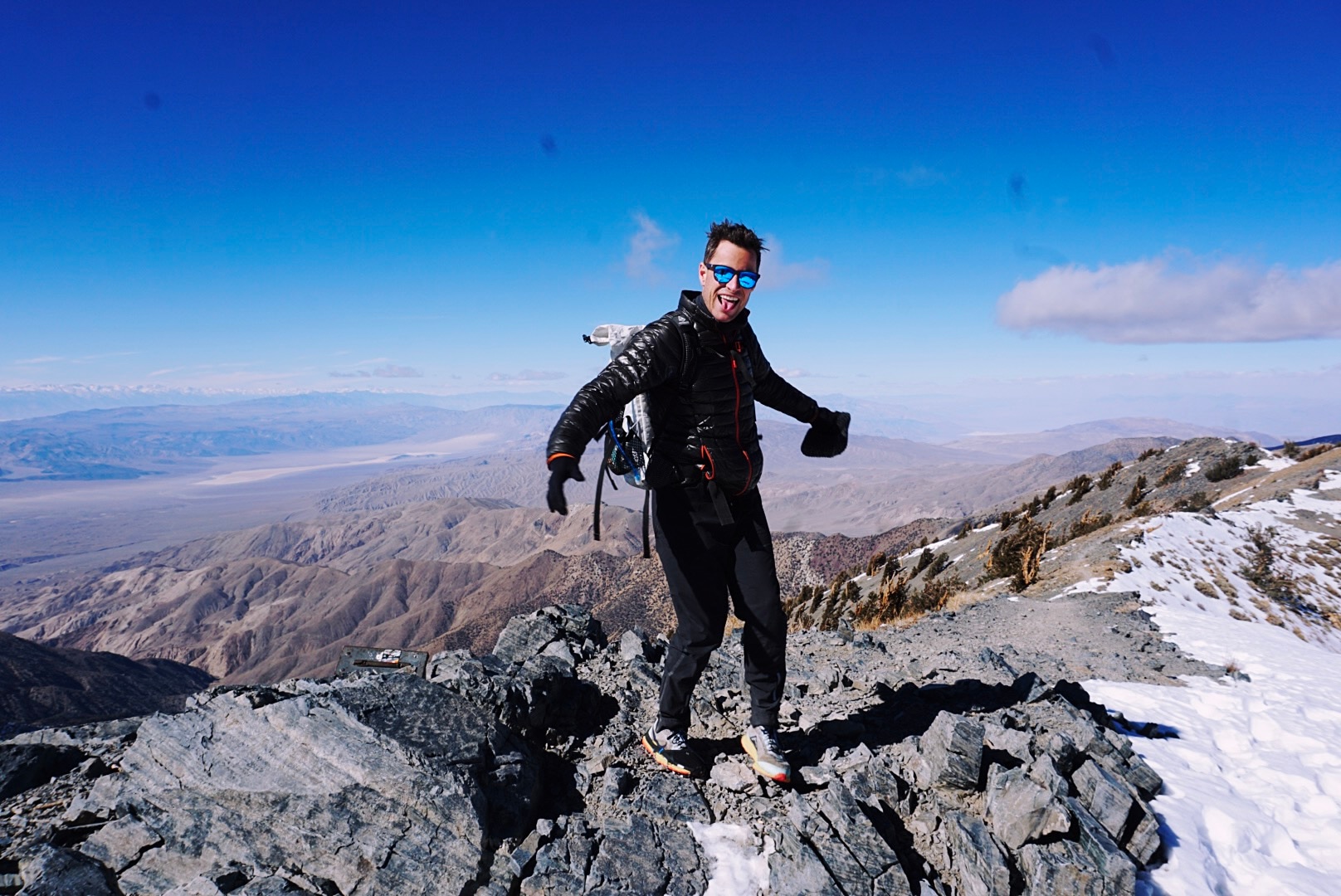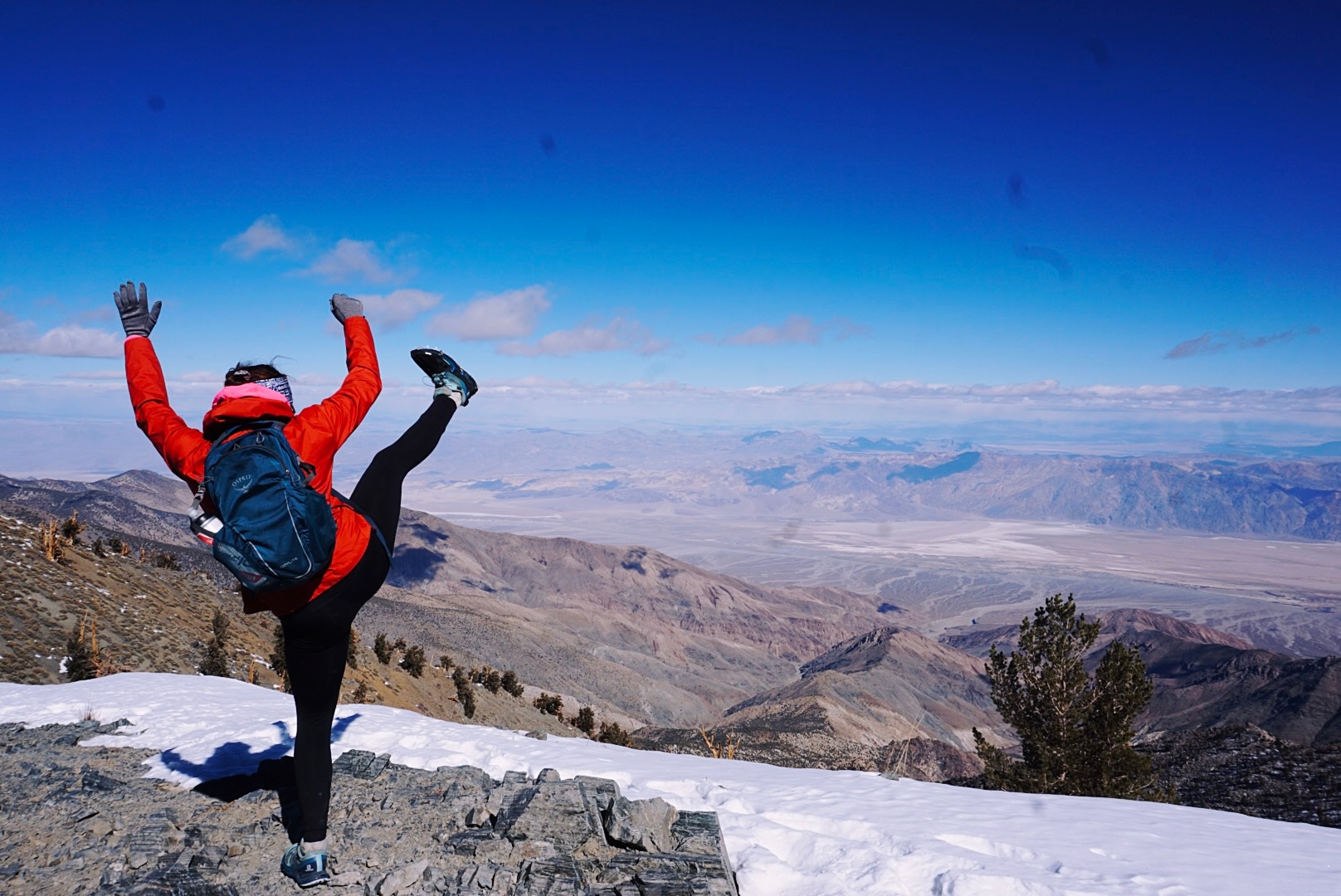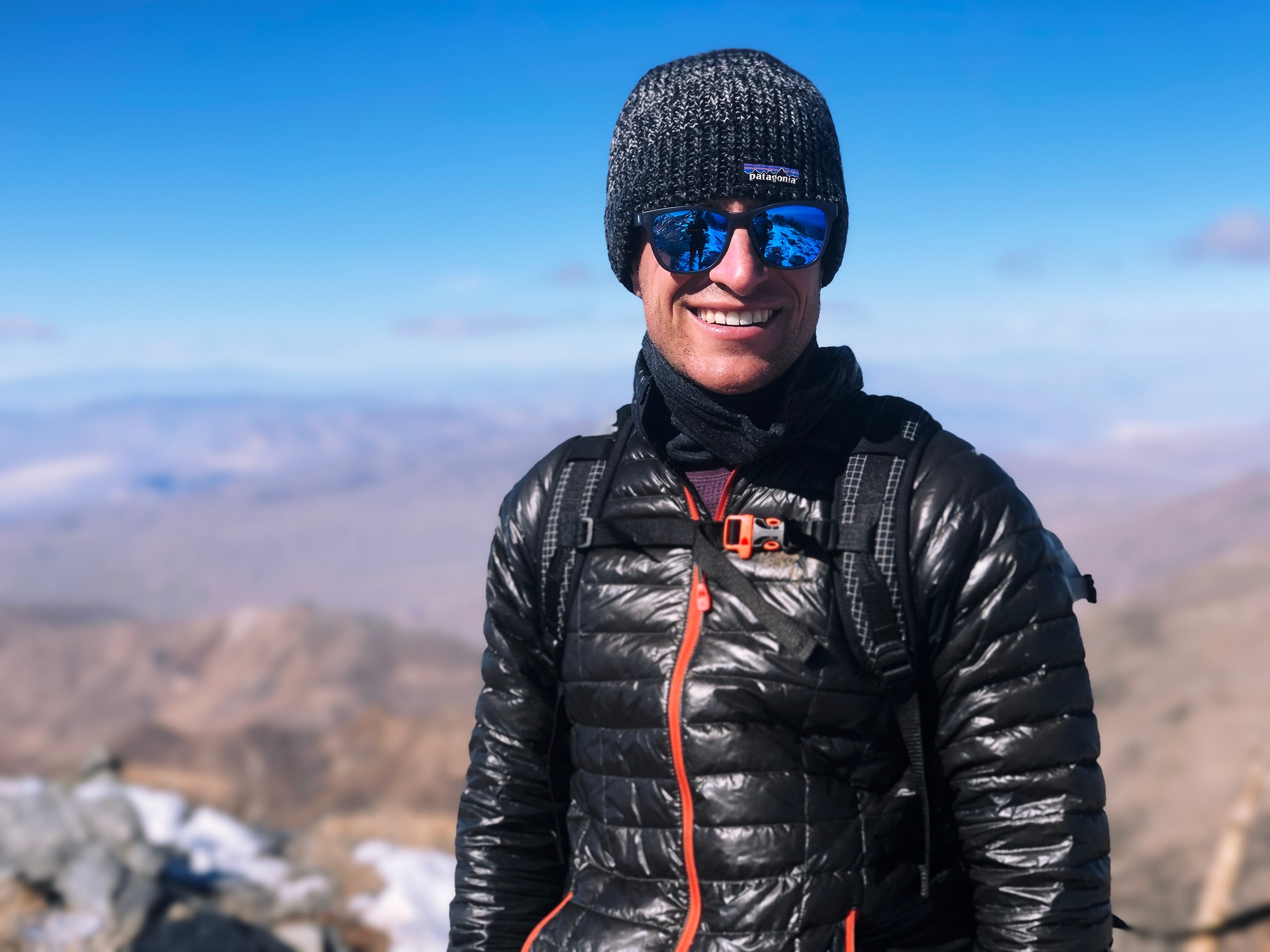 A questionable climb up Telescope Peak (it was COLD!).
---
Notes
Day 1
Drive

Trevor Noah: Born a Crime

Mosaic Canyon

Side quest: scrambling

Side quest: ridge view of valley

Side quest: alt downhill

Mesquite sand dunes

Go at dusk or dawn for best light

Go as far as you can; it's hard work!

Bring a sled? Take a time-lapse.

Take your shoes off on the way back

Run down a hill!

Don't crash your car into another car... or try to back up when your parking brake is down.

Furnace creek campground

Semi-failed fire cook... stuffed peppers w/ chili

Make sure your firewood is dry.
Day 2
Sunrise Zabriskie Point @ Sunrise

Red Cathedral ridge walk, would recommend

Golden Canyon

Side quest canyon; not advised but fun!!

Tried to get to Desolation Canyon; stopped by massive gulch.

Picnic in shade; real food is so good

Texas Springs campground wandering; meh in comparison but still plenty beautiful

Went to get firewood at the Ranch... swanky

Hung out at camp & napped

Artist's Palette

Badwater Basin @ Sunset

Really fun to frolic in the cool evening, dusk light

Big fire cook... veggies in foil
Day 3
Telescope Peak

Charcoal Kilns

Very cold, 32F at parking lot and only colder up above

Needed to walk 2 miles up the closed road

Climb was chilly; sunny sometimes but shady and windy at other points

Took the wrong way down at 50% grade in the snow & ice

Ryan slipped down an ice sheet; Naomi felt drunk

Ryan's finger started gushing bright red and blood began to freeze, yowza

So fucking cold on the windward side of the mountain ridge; all we could think about was that we'd never be warm again.

Cold Sapporo we left by the car was NOT appealing

Great driving descent views! Maybe best of the trip?

Fireside freeze dried meals
Day 4
Desolation Canyon

Natural Bridge

Drive to Bishop

Pastries & BBQ
Questions
Native Americans tribes' water source?

Salt flats — how do crystals form, how do shapes form?

Geological history of Death Valley?

How often do sand dunes reform their shape?

How many people have died here?

Mining history?

How did the park get discovered how did it become a park?

How do they get water : how do plants live, how does the hotel get water?

Has the hotel ever needed to shut down?

Who works at the hotel?

What is borax?

Salt type in Death Valley — what is epsom salt?

How do GPS watches work?

Where does debt go when you die? (unrelated, yes)